Charles J. Saylors
Charles J. "Chuck" Saylors is the PTA's first-ever male national president. He was elected national PTA president-elect in June 2007 to a two-year term.  He was installed as national PTA president in June 2009 and has been a PTA member for almost 20 years.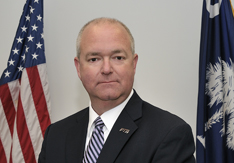 Saylors started volunteering for PTA when his oldest son Matthew (now 25 years old) was in the first grade at Woodland Elementary in Greer, South Carolina. He and his wife Teresa started volunteering then and they have not slowed down since. The Saylors have been married for 27 years and have four children; Matthew, Jennifer Canova (22), Tyler (13) and William (10). They are also the proud grandparents of Bethany Canova (3), Jennifer's daughter. Teresa is a past PTA president at Taylors Elementary where Tyler and William are students.
Saylors states: "Parent involvement is critical to student success. I would hope that all adults would support PTA and the schools in their communities. To Dads, get involved!"
Saylors has been in the construction industry for over 17 years and is currently Vice President for the Construction Management Division of M.B. Kahn Construction, a national top 10 education contractor. Saylors also serves on a number of national, state, and community boards. He is a trustee for the School District of Greenville County (SC), serving two years as board chair, and is a former board member for Greenville Technical College.
National/State/ Local PTA Positions and Activities:   
National PTA President-Elect (2007-2009)
National PTA Secretary-Treasurer (2005-2007)
South Carolina PTA President (2003-2005)
Former SCPTA Vice President and Treasurer
Former President, District 1 PTA
Current Board Member, District 1 PTA
Former Board Member, Northeast PTA Council
Former President, Woodland Elementary PTA
Professional/Volunteer Positions and Activities (Non-PTA):
Member, Council of Educational Facilities Planners International
Board Member, National Federation of Urban Suburban School Districts
Trustee, School District of Greenville County (two years as chairman)
Former Board Member, Greenville Technical College
Former President and Board Member, Roper Mountain Science Center
Former Executive Board Member, Blue Ridge Council BSA
Member and Former Deacon, Hampton Heights Baptist Church
Former Board Member, Greenville Family Partnership (National Red Ribbon)